Author and illustrator, Daniele Rossi (but you can call him Danny), presents the (mis)adventures of Franky Banky!
Once upon a time, Danny attended a stuttering conference where he noticed that various Marvel and DC superheroes adorned most of the kids' t-shirts. "They need a superhero who stutters", Danny thought to himself. Having recently published his book, Stuttering is Cool: A Guide to Stuttering in a Fast-Talking World, Danny's thoughts went directly to Franky Banky, a fox who stutters and protagonist of said book. "Franky Banky shall be their superhero!", he vowed.
Though not of the spandex wearing, flying caped superhero kind, Franky Banky's courage to face his fears and adversity is all thanks to his super power — his positive attitude towards his stuttering in everyday life situations including ordering coffee, finding romance, time travel, being chased by space aliens, teleportation, and even fighting crime now and then.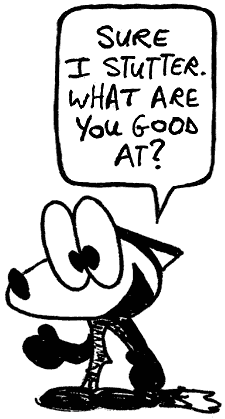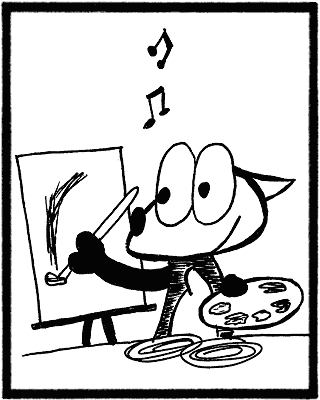 Franky Banky
Protagonist
Franky Banky is a fox who enjoys drawing, inventing things with his friends, and eating chocolate chip cookies. He also likes figs and going on adventures. Misadventures, actually – he was chased by Vikings, travelled back in time and became king, and chased by a drone. Franky Banky also happens to stutter when he speaks but he tries not to let it get in his way. He likes to tell jokes, go to the gym, and learn new languages.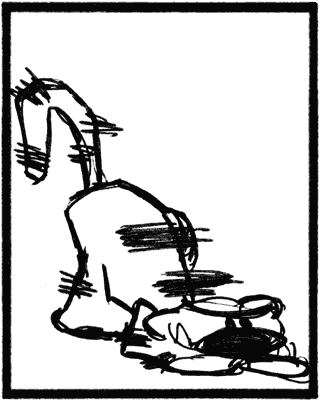 Ti-Ger
A metaphor for Franky Banky's stuttering
Ti-Ger is a mighty but friendly tiger who enjoys chasing butterflies, pouncing, and whale watching. Though benevolent, Ti-Ger is prone to unintentionally stir up trouble causing mischief, mayhem, and mirth. He is the perfect metaphor of Franky Banky's stuttering.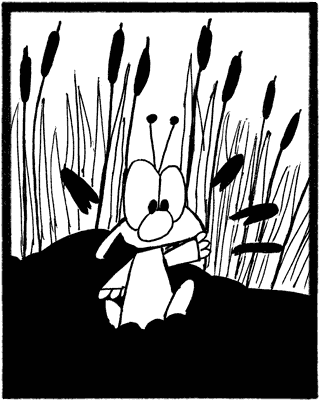 Spud
Franky Banky's neighbour
Spud is Franky Banky's next door neighbour who comes from a secret civilization on the dark side of the moon pent up on planning practical jokes on earthlings. In fact, Spud is living here on Earth in-cog-nito to get new practical joke ideas to report back to the moon. Spud has a secret laboratory in his basement. A few of his favourite pastimes include playing in the mud, social media, and blueberries. Read Spud comics at superspud.com. If you have an older iPad, check out ipad.superspud.com.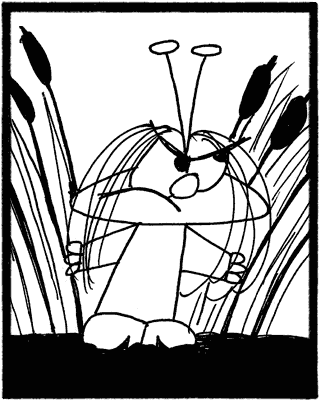 Willomina
Spud's jealous ex-girlfriend
Willomina will never admit to still having feelings for Spud, however, Willomina's fellow females are warned never to even think about looking at Spud. Willomina moved to Earth from the dark side of the moon in order to "keep an eye on Spud". In the meantime, she runs a chocolate shop and uses a (often malfunctioning) robot stand-in when she needs to leave her shop at a moment's notice when she finds out bout Spud's latest escapade.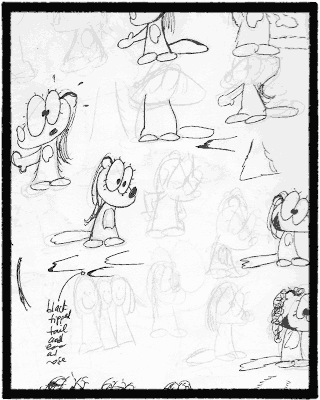 Mystery woman
New character coming soon
Currently being designed. This woman will be a new Franky Banky will make in an upcoming comic. Like Franky Banky, this yet-to-be-named character also enjoys going on adventures and apying her geometry skills to build things (usually to fix Franky Banky's designs), but prefers eating crepe brûlée. Perhaps she will become Franky Banky's love interest? She also stutters.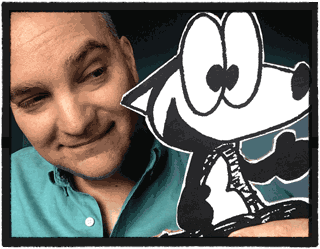 Daniele Rossi
Author and illustrator
Daniele Rossi is a cartoonist living in Toronto who has been stuttering and drawing comics since he was 4 years old give or take. Daniele grew up to eventually produce the Stuttering is Cool podcast and book of the same name with the latter featuring comics starring Franky Banky.
An active participant in the global stuttering community, Daniele co-founded Stutter Social, an online community facilitating group video chats for people who stutter; is an advisory member to the board of the Canadian Stuttering Association; draws Franky Banky comics for the Association bègaiement communication quarterly newsletter; and led cartooning workshops to young and old alike at the National Stuttering Association, Camp Shout Out, Shared Voices, The Indian Stammering Association, and the Canadian Stutering Association.
Daniele enjoys watching golden age animation, listening to podcasts, travelling, strength training, and is passionate in digital accessibility. Since his first name can be difficult even for English-language non-stutterers to say fluently, you can call him Danny.
Danny feels a little awkward writing about himself in the third person.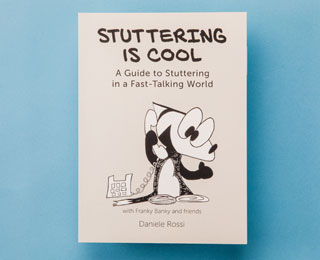 Stuttering is Cool: A Guide to Stuttering in a Fast-Taking World
Tips and comics about reducing fears about stuttering in everyday situations, job interviews, dating, and more!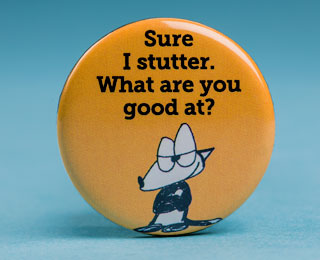 Stuttering awareness pins!
Spread stuttering awareness with style and humour! Five designs and phrases along with a mini-comic book.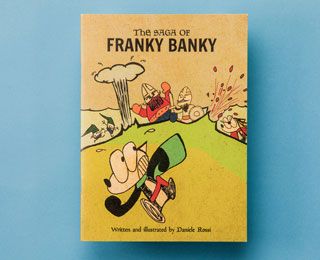 The Saga of Franky Banky
Travel back in time to Iceland's early days where our hero runs into one misadventure after another facing the forces of nature, magical creatures, dangerous characters from other sagas... and his stuttering!