Tales of Mischief, Mayhem and Mirth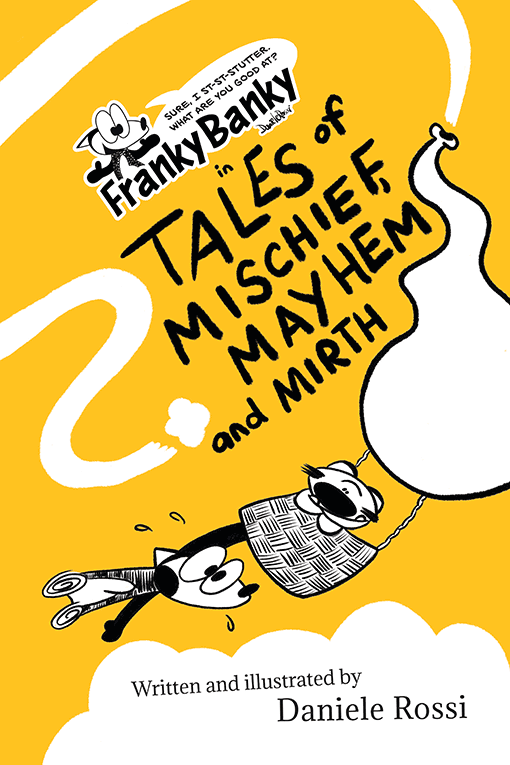 It's a great day for adventure!
Franky Banky is a fox of many interests. Playing sports, painting, pie fights, inventing things, stargazing and he happens to speak with a stutter. But most of all, Franky Banky likes to go on adventures — which tend to turn into misadventures!
Join Franky Banky in his first interactive graphic novel as he participates in a hot air balloon race (where everyone else cheats!), gets chased by space aliens (all across our solar system!), navigates underground tunnels around the world (you can also help him!), accidentally jamming on stage at a packed concert (and steals the show!), makes too much popcorn (yum!) and more.
All this while explaining his bumpy speech to everyone he meets along the way who give him funny looks and well meaning but silly advice he didn't ask for (like remembering to breathe).
And not to get pounced on by a tiger!
ISBN: 978-0-9921632-8-0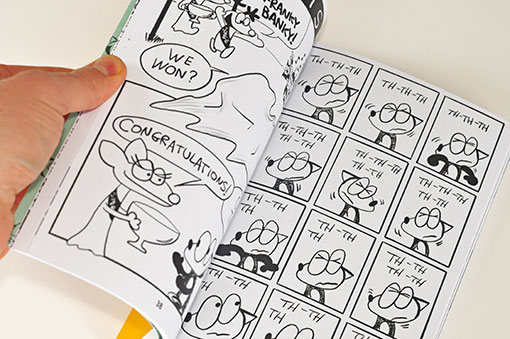 "I smiled all the way through reading this book… I liked the honest open discussions around stuttering, addressing common experiences such as embarrassment and fear of some speaking situations as well as exploring the difference that acceptance and acknowledgement of stuttered speech can make… stuttering is represented consistently when Franky Banky and other stuttering characters speak. This is great as it serves as a reminder that stuttering does not always need to be the focus of the narrative, it's just 'there' in the background. Something often not seen when a character stutters on TV, films or in books."
As a Speech and Language Therapist, this book will be a very useful tool for therapy. The different stories can be used in isolation to introduce ideas such as ways to talk to people about stuttering, different feelings and emotions someone might relate to stuttering and ways to respond when others try to 'help' with suggestions such as 'remember to breathe…'
Jenny Packer
Speech and Language Therapist
"Within the adventures, Rossi weaves in the experience of living with a stutter, helping the reader (a child or adult who stutters, speech therapists, parents, teachers, family members, friends, etc.) develop a comfortable and nonjudgmental way to talk about this challenge. Incredibly entertaining and empowering – thank you Daniele Rossi!"
Doreen (Dori) Lenz Holte,
Author, Voice Unearthed: Hope, Help, and a Wake-Up Call for the Parents of Children Who Stutter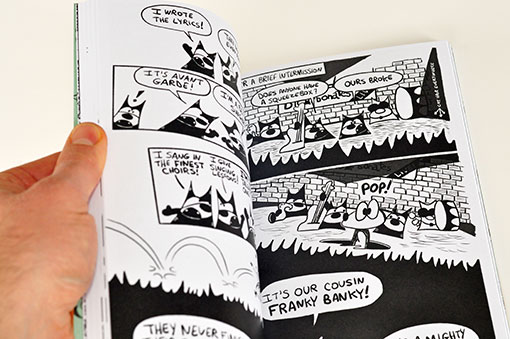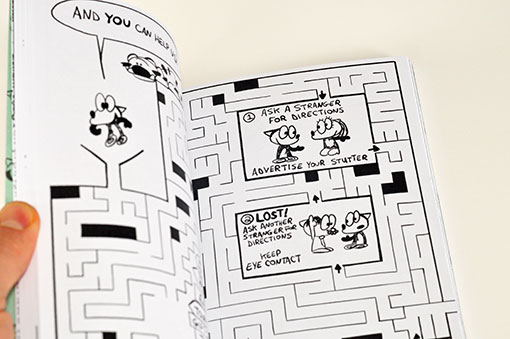 "I immediately fell in love with this cute cartoon fox. He is my stuttering superhero. Simply because he stutters but speaks anyway… On his journey he meets people who don't understand what stuttering is about, but thanks to Franky Banky they learn about stuttering and how to be the best listener. He also meets amazing allies, who learn how to better help people who stutter.
But that's not all! In this book kids can colour and find their way through a maze to a fabulous concert where he becomes the star of the show, together with his cousins. Franky Banky makes stuttering cool!"
Anita Blom
Stuttering activist
"Thankfully, along comes Daniele Rossi with his A-team of Franky Banky and Ti-ger. They help us understand the experience of stuttering in a different light, and offer practical ways in which we can take action to change the way we experience stuttering. Examples are self-advocacy, disclosing stuttering, stuttering openly, and understanding that there's more to a person than their stutter. Daniele shows us the way in his unique style, using comics to tell a story and to get a message to us… It is life-changing, and very likely life-saving, too."
Hanan Hurwitz
Quality Management and Regulatory Consultant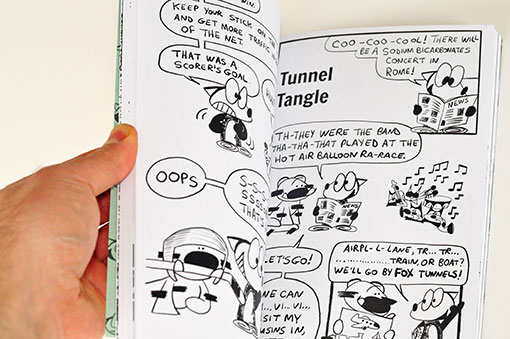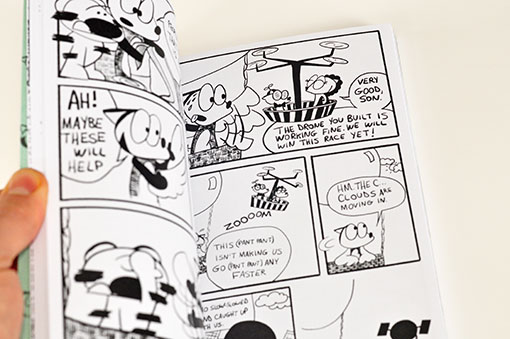 "Daniele Rossi has done it again with another fun and exciting comic book! The manner in which he incorporates stuttering into the story is pure genius. This work should be in the hands of every child who stutters, to promote self understanding regarding their stuttering. Daniele also portrays ways to self advocate about stuttering with age appropriate clarity. Thank you for another masterpiece!"
Tom Scharstein
Chairman, World Stuttering Network
This book is utterly and refreshingly honest; Franky Banky's stammer can make him feel fearful and defeated, and there are lengthy sequences illustrating how difficult it can be for him to speak. Still, it is hard not to be swept up in the overall optimism, and together with Franky Banky's unwavering determination and some laugh-out-loud moments, the book is balanced and still feels light.
With his genuine belief that it is everyone's right to just be who they are, Franky Banky is a breath of fresh air to his friends, as he will be to the reader, and with its considered content and endearing pictures, this book could be an excellent resource for a child who has a stammer and their family.
Katherine Brown
Speech and language therapist, Member of the STAMMA book review team
Read Katherine's full review on the STAMMA website
Daniele Rossi's newest book is a treat! With more cartoons, fun mazes, and simple storylines with less text to be accessible and engaging for younger readers, this book still emphasizes the message that stuttering is okay, manageable, sometimes frustrating, but overall just another thing that makes you, you!
Franky Banky and Ti-Ger show how stuttering can be disclosed to take the pressure off, and how listeners often respond positively when you focus on saying exactly what you want to say. Finding the humor in stuttering and using humor to stay confident when your own stuttering tiger roars is a theme throughout.
There's even a section that addresses how speech language pathologists might be unsure how to respond to stuttering, and that centering the person who stutters is the road to therapy success. Bravo Daniele!
Deborah Bennett
MS CCC-SLP, 
National Stuttering Association Chapter Leader
and Clinical Co-Director, Camp Words Unspoken.
"I highly recommend the graphic medicine work Franky Banky in Tales of Mischief, Mayhem and Mirth by Daniele Rossi for its humor, empathic lessons for non-stuttering persons, and variety among person's who stutter."
Kevin Wolf
Graphic Medicine
Read Kevin's full review on the Graphic Medicine website