Author's commentary
I wanted to create something special to mark the 10th anniversary of the theatrical premiere of The King's Speech, a movie about the relationship between King George VI and his speech therapist, Lionel Logue. This multi-award winning, best Oscar for best picture and other accolades-received film brought stuttering into the spotlight to the delight of the stuttering community worldwide.
Since I like parodies so much, I made one of the big, climactic radio speech that King George VI gives at the end of the film (uh… spoiler alert). I decided to create another "drawtoon" and experiment with adding voice characterizations by recruiting a few of my friends who also stutter.
Instead of preparing the audience for war like in the movie, in this drawtoon I dressed Franky Banky up as King George VI encouraging viewers who stutter to take steps out of their speaking comfort zones, stutter openly, and spread much needed stuttering awareness.
Starting off the drawtoon is the character of Lionel Logue, played by a new speech-language pathologist (SLP) cartoon character I will introduce in the future. He was voiced by Australian-born, Grant Meredith, who has been making digital content since the 90s. He is a member of Australia's Speak Easy Association's National Council and a member of Speech Pathology Australia's Ethics Board. "Fair dinkum" is Australian slang for something that is really good and/or true.
The drawtoon proceeds to the radio speech gvien by Franky Banky/King George VI. I have often pondered what would Franky Banky's voice sound like if I were ever to have a chance to create an animated cartoon of him? I think a drawtoon counts!
I recruited actor and Tik Tok star, Marc Winski, to voice Franky Banky. Marc's portrayal of Franky Banky was based on a Canadian trying really hard to sound like the king yet not beeing successful at it. After all, it's a parody! I think Marc did a great job! Marc is an actor, singer, and dancer who performed on Disney Cruise Lines and in Broadway shows such as Grease and Hairspray. He strives for giving a voice and advocating for people who stutter in theatre, film, media, and television which garnered media attention about his hilarious stuttering awareness videos on TikTok and Instagram.  
Playing Queen Elizabeth is Stella, a female cartoon character I recently designed and debuted on Instagram, is an SLP who stutters. She is voiced by Lynne Mackie who is the creator behind the StammerOn YouTube channel. Lynne is also active in amdram/community theatre where she played one of The Witches in MacBeth and is now directing a self-written play. Lynne is a Trustee for both Stamma and the Scottish Stammering Network, and is a board member for Stamily, a worldwide stuttering community dedicated to sharing the lived experiences of people who stutter.
I had a lot of fun creating this drawtoon and I thank Grant, Marc, and Lynne for helping me bring it to life!
Fun fact: This isn't the first time I created a King's Speech parody. Franky Banky and Ti-Ger travelled back in time to the 1930s Quantum Leap style when Bertie became king.
On a slightly different topic, listen to my epsiode of the Stuttering is Cool podcast from 10 years ago when The King's Speech had it's North American premiere at the Toronto Film Festival.
December 29, 2020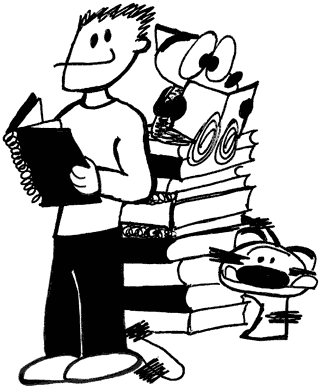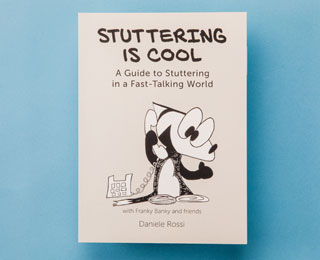 More Franky Banky in
Stuttering is Cool: A Guide to Stuttering in a Fast-Talking World!
Tips and comics about reducing fears towards stuttering in everyday situations such as job interviews, dating, and more! Learn more on the Stuttering is Cool website.
Buy your copy now